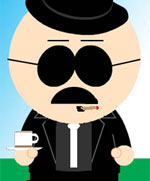 Nickie Goomba
è l'acquisto più recente della
italian gallery
dei
South Park Republicans
. I fan della
mitica serie
di Parker&Stone che vogliono cimentarsi con questo
fantastico programma
, possono spedire la loro immagine a
questo indirizzo email
. Ricordiamo anche la
South Park Blogger Gallery
ufficiale di
My Vast Right Wing Conspiracy
, alla quale ci siamo ispirati (chiedendo il permesso a Beth, naturalmente!).
UPDATE.
Si aggiungono ai
South Park Republicans
anche
Francesco
(
Starsailor
) e
Corrado
(
Calimero
). Ne manca uno e siamo a quota 40! :)
UPDATE/2
. Il numero 40 è il mio gemello
Roberto
(
Otimaster
)! Un abbraccio :)
Nickie Goomba is the new entry in the italian gallery of South Park Republicans. Fans of the mytical tv-series by Parker&Stone who want to tweak a bit with this amazing software, may send their portrait to this email address. We also remember the official South Park Blogger Gallery at My Vast Right Wing Conspiracy, which inspired us (asking for Beth's permission, of course!).