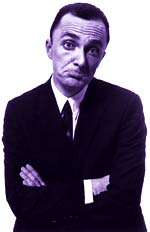 Di ciò di cui non si può parlare, diceva il filosofo del linguaggio
Ludwig Wittgenstein
, è bene tacere. Ma Daniele Luttazzi ha oltrepassato da troppo tempo il confini del ridicolo per mettersi a pensare a queste minuzie. E così ha deciso di spiegare ai lettori del suo blog
il caso Plame
. Per sua sfortuna, però,
Christian Rocca
si è imbattuto in questa fantasiosa ricostruzione, spacciata per inchiesta para-giornalistica. E ha scoperto che Luttazzi
"non ne azzecca una. Vi giuro, leggetelo, nemmeno una, neanche per sbaglio, zero assoluto. Non mi riferisco, ovviamente, alle battute (che a parte l'ultimissima non fanno ridere), né alle valutazioni politiche (fenomenale quella secondo cui Rove avrebbe mandato a tutti gli evangelici il documentario "Faith"), ma mi riferisco ai fatti riportati (su quelli non riportati, ci metto una pietra sopra)"
. Segue, su
Camillo
, un impietoso elenco degli sfondoni. Povero Luttazzi. Prima mangiava merda in televisione. Adesso fa figure di merda su Internet. Da coprofago a coprofilo.
"Whereof one cannot speak, thereof one must be silent", said the philosopher of language Ludwig Wittgenstein. But Daniele Luttazzi crossed the frontier of ridiculous since too long a time to care and think about such trifles. So, he decided to explain to the readers of his blog the Plame's Case. For his disgrace, however, Christian Rocca met with this fancy reconstruction, sold as a sort of journalistic investigation. And he discovered that Luttazzi "doesn't make a single guess. I swear, read it, not a single one, not even by a mere chance, absolute zero. Obviously, I am not talking about his witty remarks (which, apart from the latest one, produce no laughs), neither about his political evaluations (phenomenal that one according to which Rove sent to all the evangelists the documentary "Faith"), but I am talking about the facts he brings as an evidence". Follows, in Camillo, a pitiless list of his nonsense. Poor Luzzatti. Once he ate shit in television. Now he shit-talks on the Internet. From coprophagia to coprophilia. *Note for American Readers: Luttazzi really ate (fake) shit on public television. It's not a manner of speaking.