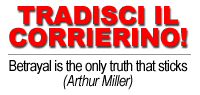 A forza di non sentirlo dire da nessuno (a parte
noi
), avevamo quasi il sospetto di aver avuto le traveggole. Ma dopo l'editoriale di ieri scritto da Salvatore Carrubba per Il Sole 24 Ore (non esattamente un tempio del berlusconismo, in tempi come questi), ci sentiamo finalmente in ottima compagnia. Nella stampa anglosassone, spiega l'ex direttore Carrubba (un liberale vero, senza se e senza ma), l'
endorsement
«avviene normalmente nell'ultimo giorno o nell'ultima settimana della campagna elettorale, mentre il Corriere l'ha fatto all'inizio»
. Schierarsi all'inizio della campagna, scrive l'editorialista del Sole,
«significa non seguire la campagna elettorale, bensì indirizzarla; e rischiare di trasformarsi da strumento informativo a protagonista diretto del dibattito politico, da testimone a comprimario»
. Una tesi molto simile a quella del diessino Emanuele Macaluso, che ha dichiarato a
Il Giornale
:
«(...) l'uscita allo scoperto con un mese d'anticipo rispetto alla data del voto, espone il direttore del Corriere al rischio di passare per un soggetto attivo della campagna elettorale»
. Ecco, noi la pensiamo esattamente come Carrubba e Macaluso. Ed è (anche) per questo che invitiamo i simpatizzanti del centrodestra a diventare ex-lettori del Corrierino, assaporando il dolce gusto del
libero
tradimento.
Hanno aderito alla campagna
(in rigoroso ordine d'apparizione)
:
Walking Class
,
Krillix
,
Freedomland
,
Daw
,
Calamity Jane
,
Otimaster
,
StarSailor
,
Yet Another Pajamas Blog
,
Liberal_mente
,
Il Camper
,
SGS
,
Mariniello.org
,
Che ci devi fare
,
Civiltà
,
Neocon Italiani
,
Parolibero
,
Passaggioalbosco
,
Unione per le Libertà
,
Robinik
,
The Mote in God's Eye
,
Blogs for CdL
,
Mithrandir
,
Born to Be Free
,
Ultima Thule
,
Stefano "Free.9" Scardovi
,
Dietro le linee nemiche
,
IdeaLibertà
,
Zanzara
,
Il Giulivo
.
Il codice html per la visualizzazione di questo banner è: img border="1" src=http://www.ideazione.com/blog/bc4.gif width="200" height="95". Per visualizzare il banner orizzontale: img border="1" src="http://www.ideazione.com/blog/bc3.gif" width="400" height="58". (Aprire e chiudere con i tag <...>). p.s. Se il vostro blog ha aderito e non è presente nella lista, scrivetelo nei commenti di questo post.