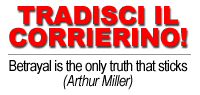 Questo weekend, invece di leggere il Corrierino, scrivete qualcosa di interessante sul vostro blog. Poi fate un link
a questo post
e un
trackback a questa URL
. Prima o poi il link al vostro post verrà aggiunto qui sotto. Se non potete fare un trackback, provate
Simpletrack di Adam Kalsey
o
Wizbang Standalone Trackback Pinger
. Se non avete idea di che cosa sia un trackback, segnalate il vostro post a
questo indirizzo e-mail
(con url, titolo del post, nome del blog e nell'object: "Betrayal Open Trackback"). Altre informazioni
qui
e
qui
. Buon
libero
weekend a tutti.
This weekend, instead of reading biased newspapers, write something interesting on your blog, make a link to this post, then trackback this URL and - sooner or later - a link to your post will be added at the end of this one. If you can't make a trackback, use Simpletrack di Adam Kalsey or Wizbang Standalone Trackback Pinger. If you have no idea of what a trackback is, mail url, title and name of blog to this address, writing in the subject: "Betrayal Open Trackback". Other infos: here e here. Have a nice (and free) weekend you all.

Trackbacks:
Peakah's Provocations - America's Hope
Blue Star Chronicles - Jay Bennish: Flower Child or Neo-Nazi?
Passaggioalbosco - Terroristi di sinistra incendiano Milano
Blue Star Chronicles - On Whose Side Were You When It Mattered?
StarSailor - Ben venga un altro '68 e '77
Robinik - Destra e Sinistra: una trappola per topi
Freedom Folks - Here's Your Sign
Right Truth - Al-Qaeda issues "final warning" before bringing...
Zanzara - Tu chiamala se vuoi... Unione

Other Open Trackbacks: Basil's Blog, Wizbang!, The Uncooperative Blogger, The Crazy Rants of Samantha Burns, Rhymes with Right, The Real Ugly American, Adam's Blog, The Conservative Cat, The Liberal Wrong-Wing, Blue Star Chronicles, Stuck on Stupid, TMH's Bacon Bits, The Median Sib, Third World Country, Voteswagon, Jo's Cafe, Don Surber, Linkfest Heaven, Open Trackback Alliance, Open Trackback Provider Blogroll.

Hanno aderito alla campagna (in rigoroso ordine d'apparizione): Walking Class, Krillix, Freedomland, Daw, Calamity Jane, Otimaster, StarSailor, Yet Another Pajamas Blog, Liberal_mente, Il Camper, SGS, Mariniello.org, Che ci devi fare, Civiltà, Neocon Italiani, Passaggioalbosco, Unione per le Libertà, Robinik, The Mote in God's Eye, Blogs for CdL, Mithrandir, Born to Be Free, Ultima Thule, Stefano "Free.9" Scardovi, Dietro le linee nemiche, IdeaLibertà, Zanzara, Il Giulivo, Arca, Parolibero.