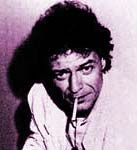 "C'è chi nasce sbirro, io sono nato ladro". Era questa una delle frasi preferite di Renato Vallanzasca, rapinatore e sequestratore che terrorizzava la Lombardia negli anni Settanta. Ieri, a "Porta a Porta", il parlamentare europeo comunista
Marco Rizzo
, commentando
l'arresto di Gianpiero Fiorani
, ha detto che tra un banchiere e un rapinatore di banca come Vallanzasca non c'è praticamente differenza. E poi, a scanso di equivoci, l'ha ripetuto. C'è chi nasce umano, lui è nato comunista.
From Marx to Vallanzasca
"Some are born cops, I was born thief". As one of the favorite quotes by Renato Vallanzasca goes. He was a bank-robber and kidnapper who terrorized Lombardia in the Seventies. Yesterday, during a talk-show on Italian state television, the communist European MP Marco Rizzo, talking about the arrest of Giampiero Fiorani, basically said that there's no difference between a banker and a robber like Vallanzasca. Some are born humans, he was born communist.