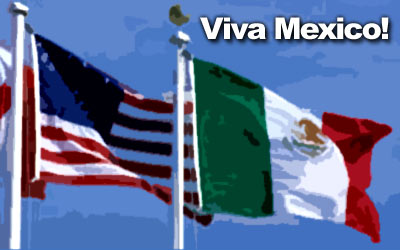 Dopo una caldissima notte elettorale, il conservatore Felipe Calderon (Partido Accion Nacional), ha battuto il candidato della sinistra Andrei Manuel Lopez Obrador (Partido Revolucionario Democratico) nelle elezioni presidenziali messicane. A meno di novità clamorose che potrebbero venire dal
recount
chiesto dalle sinistre (malgrado i 400mila voti di distacco: 36,38% contro 35,34), i cittadini messicani hanno dunque scelto di confermare la linea filo-americana e liberista seguita dal presidente uscente,
Vicente Fox
. Inoltre, alle elezioni per il rinnovo del Congresso, il PAN ha raggiunto la maggioranza dei seggi, mandando finalmente all'opposizione - dopo 71 anni - il PRI (il Partido Revolucionario Institucional che presentava come candidato alle presidenziali Roberto Madrazo, arrivato terzo con il 21,57% dei voti).
Per ricostruire tutte emozioni di questa lunghissima notte elettorale, vi consigliamo lo stratosferico
liveblogging di Michael Barone
(uno dei migliori reporter politici americani) per Real Clear Politics.
Questo
, sempre su Real Clear Politics, è il commento di Barone a spoglio delle schede terminato. Come scrive
Don Surber
, con la vittoria di Calderon i tre paesi del Nord America - Stati Uniti, Canada e Messico - sono, per la prima volta dopo decenni, saldamente in mano ai partiti del centrodestra. E questo rappresenta un durissimo colpo per i
mainstream media
abituati a cantano le lodi della deriva castrista in America Latina, se il
Washington Post
(via
NewsBusters.org
) arriva a scrivere che 400mila voti di distacco sono "quasi un pareggio".
Round-Up:
Mark in Mexico
,
Fruits and Votes
,
Bloggings by Boz
,
The Sundries Shack
,
Decision '08
,
BrothersJudd
,
The StrataSphere
,
Pajamas Media
,
Moc's Blogs
,
Instapundit
,
Polipundit
,
Blogs for Bush
,
Right side of the Rainbow
,
Academic Elephant
,
Hit&Run
,
Betsy's Page
,
The Irish Trojan's Blog
,
Iowa Voice
,
The Conservative Voice
,
Publius Pundit
.