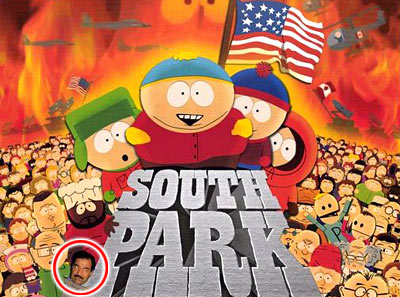 Questa notizia
di Yahoo News (via
GOP Vixen
) è, con ogni probabilità, una bufala. Ma se fosse vera, sarebbe la migliore dell'anno. Parlando davanti alla platea dell'Edinburgh International Television Festival, Trey Parker e Matt Stone, i due creatori di
South Park
(e
Team America
), hanno dichiarato di aver saputo da alcuni marines in Iraq che l'ex dittatore Saddam Hussein sarebbe stato costretto, in prigione, ad assistere "ripetutamente" alla proiezione di "
South Park: Bigger, Longer and Uncut
", il lungometraggio nato dopo il successo dell'irriverente serie televisiva animata (che molti considerano un
capolavoro di satira libertarian e/o conservatrice
). Nel film, tra l'altro, compare anche lo stesso Saddam, nell'insolito ruolo del fidanzato di Satana. Conoscendo Parker e Stone, è stata quasi sicuramente una boutade estemporanea (a cui i giornalisti hanno prontamente abboccato). Ma a noi piace pensare, contro ogni probabilità, che sia una storia vera. Si tratterebbe della tortura più raffinata, e più efficace, della storia dell'umanità.
Round-Up:
GOP Vixen
,
Ace of Spades HQ
,
Althouse
,
Cold Fury
,
Discarded Lies
,
TheTalkArena
,
The Llama Butchers
,
The Political Pit Bull
,
Tai-Chi Policy
,
Politechnical Institute
.
DIGG This
/
del.icio.us