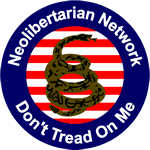 I
neolibertarian
non convincono troppo Stefano Magni (del blog
Oggettivista
).
Secondo lui
, non c'era bisogno - negli Stati Uniti - di un movimento come quello neolibertarian, con "un approccio più realistico e meno dogmatico rispetto ai paleolibertari e ai libertari del Libertarian Party", perché una corrente di pensiero molto simile, e cioè una "filosofia politica libertaria
realista
,
gradualista
e
contraria all'isolazionismo
" già esiste da più di mezzo secolo, ha forti
fondamenta filosofiche
e si chiama, appunto, Oggettivismo. Noi, che fino a ieri non conoscevamo
Rudolph J. Rummel
o la rivista
The New Libertarian
, ma che avevamo iniziato a dubitare dei seguaci di Ayn Rand da quando abbiamo letto
Intellectual Morons
(How Ideology Makes Smart People Fall for Stupid Ideas) di Daniel J. Flynn, ci siamo invece entusiasmati all'idea di un manipolo di
big-tent libertarian
, falchi in politica estera e pragmatici in politica interna, che non hanno nessuna intenzione di auto-condannarsi alla marginalità eterna come stanno facendo i libertarian duri&puri statunitensi. Da oggi, The Right Nation aderisce al
Neolibertarian Network
.
Don't Tread on me!